Cha Cha Dance Lessons in Boise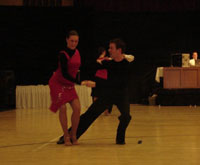 Birthplace: Cuba
Creation date: 1948
Creators: Cuban Dancers
Dance type: American Rhythm
Nearly everyone has heard or repeated the chant "1-2-cha-cha-cha." Even though the counts and styling have changed from the original "cha cha cha," Cha Cha remains a favorite of social dancers around the world.
The modern Cha Cha is a blend of several dances including the original Latin dance form (Damson), the Mambo and the American Swing. In the 1940's, Havana Cuba was a popular resort destination for North Americans. American bands playing in the Havana nightclubs combined their jazz music with the native Rumba rhythms, and created the first Mambo music.
Cha Cha first emerged on the dance floors of Cuba as the Triple Mambo. The quicker Calypso style music inspired dancers to add three staccato steps to the Mambo. It has a free flowing movement similar to the Rumba.
Cha Cha emerged as a separate dance in the 1950's and was originally named the Cha Cha Cha in reference to the three quick steps in the middle of the pattern.The name, however was too cumbersome for most dancers and was therefore shortened to the "Cha Cha."
The Cha Cha drifted to the United States in 1954 and by the end of the decade, there was a Cha Cha craze across the nation. About the same time, a dance teacher from England visited Cuba and studied the patterns and styling of this new dance. Upon returning to his studio in England, he introduced the Cha Cha as a new social dance.
The catchy and delightful music of the Cha Cha have made it a very popular, both for social and competitive dancing.
This work is credited to BYU-Idaho dance book 2006.
All private dance lessons are 45 minuets, and will be held at our boise location 6419 W Ustick Rd unless you request our Caldwell location.
Top Ten Cha Cha Dance Moves
#1 cha cha Basic
#2 Progressive Baisc
#3 Outside Partner Breaks
#4 Cross Over Breaks
#5 Cross Body Lead
#6 Open Break Underarm Turn
#7 Chase Turns (also known as the chase
#8 shoulder check
#9 shadow positions
#10 Alternating Under Arm Turns
Other enjoyable cha cha video's an or routines
Call Kevin Hunter 208-870-6737 EMail: captindanceman@yahoo.com