Tango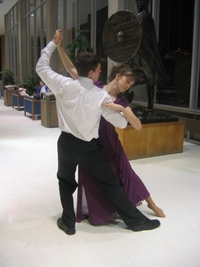 Birthplace: Argentina
Creation date: 1850
Creator: Buebos Aires working class
Dance type: American Smooth
The Tango was born in the late 1800s in the bars, brothels, and dance halls in the slums of the Bunenos Aires Argentina. Buenos Aires had a very multiracial population due to high immigration, and the tango is a mixture of native dances that the immigrants brought with them- the Candombe from Africa, the Habanera from Europe, and the Milonga from Argentina.
The Tango was initially considered an immoral and indecent dance and was rejected by the higher society of Argentina. However, once the tango made its way to the mainstream dance floors of Paris following World War I, it was modified to an acceptable level of "decency" and exploded in popularity across Europe. This cleaner version was the accepted by the middle and upper classes of Argentine society. By the 1920's, the Tango was as popular in the heart of the city as it was the barrios. The Tango soon arrived in New York City, and became an instant favorite throughout the United States.
The Tango is an intense and emotional dance. The tango has come to be a fundamental expression of Argentine culture that existed during its Golden Age. It has continued to evolve in style and execution since its infancy in Argentina. Today, tango is enjoying a new wave of popularity around the world. There are "tangueros" found in most major cities. The stage play "Tango Argentino" opened in Paris and played to sold out audiences for more than a decade igniting a new burst of Tango enthusiasm around the world.
This work is credited to BYU-Idaho dance book 2006.
The top ten basic Tango moves are as follows:
1. Basic Tango step
2. Basic turning left ending facing opposite line of dance
3. Prominade
4. promindae turning right
5. Prominade with flare
6. Prominade with tango rocks
7. Basic with tango rocks
8. Tango rocks with tango kicks
9. Corte
10. Double corte
The above steps are for reference for all those doing their best to remember the basic steps.


Call Kevin Hunter 208-870-6737 EMail: captindanceman@yahoo.com