Ballroom Dancing Boise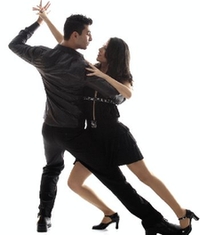 Welcome to the CAPTiNDANCE ballroom dance page. We offer 13 different competitive and social dance styles. The ballroom dance styles we offer may be swing dance styles such as, single step swing, jitterbug, triple step swing, east coast swing, Charleston, shag, and lindy hop. We even offer a swing line dance known as the shim sham and jitterbug stroll. The Latin Ballroom dances we offer are Salsa, Mambo, Bachata, Merengue, Rumba, samba and Cha cha. You may even decide to go with a common ballroom dance styles such as the waltz, foxtrot, Viennese waltz, or Night Club Two Step. Some are more modern than others, and may appeal to you according to your taste in music.
What will you learn in a ballroom dance class?
There are 5 important steps you must take in order to make ballroom dancing a fun, ejoyable, and a valueable experience for you and your dance partner. The number one secret to becomming a good ballroom dancer is to learn to maintain a good connection with your dance partner at all times. A good connection is what enables the leader to give the follower signals, and the follower to recieve them. Maintaining a good connection is required by both the lead and the follow. The second secret is knowing the steps. Each beginner level dance will have at least ten steps for you to memorize and learn. These steps are mandtory for the lead to learn, and only nice to know for the followers. A leader that has established a good connection durring his dance will be able to lead the follower around on the dance floor no matter how experienced or out of practice the follower might be. The thrid secret to ballroom dancing is to know how much momentium to apply. In each dance momentium us very important.
Click "Register for Dance Classes" below to contact us and we'll send you a link to register for your desired class. Private lessons for all dance genres also available. Call or email for more info.
Get Fit, Get Social, Get Dancing with CaptinDance!
This video does a great job demonstrating the very core basics to doing some ballroom dance steps. They keep it simple, and they do a good job explaining the very little they do cover.
Call Kevin Hunter at 208-870-6737 EMail: captindanceman@yahoo.com