Foxtrot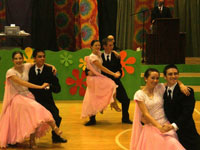 Birthplace: New York City
Creation date: 1914
Creator: Harry Fox
Dance type: American Smooth
Foxtrot is often regarded as the most popular of the social dances because of its versatility. It has been characterized as being the easiest to pick up but the most difficult to truly master. The foxtrot can be danced to a wide variety of music from country western to big band classics to today's popular hits.
The creation of the foxtrot is credited to Harry Fox, a vaudeville performer from New York City. In a 1914 variety show, he did a quick trotting dance to the popular rag time music. The audience dubbed it "Fox's Trot." Oscar Duryea, a leading choreographer of the time, introduced this new dance to the public as a social dance. However, he found that the continuations; the trotting was too exhausting for the general public, so he modified the rhythm by adding slow walking steps in between the quick trots. Thus the foxtrot was born.
The foxtrot underwent further revision from various professional dancers. Vernon and Irene Castle added grace and erect posturing to the dance. The famous Arthur Murray created the "magic rhythm" using a pattern of two slow steps followed by two quick steps. This step has remained one of the basic patterns of the modern day foxtrot.
From its ragtime beginnings, the foxtrot has been gradually refined into a beautiful, smooth dance that is popular around the world.
This work is credited to BYU-Idaho dance book 2006.
Here is what the foxtrot looks like, I know these people are just learning, but it is a very easy dance to learn.
Top 10 beginner foxtrot steps
#1 Basic
#2 Promenade
#3 Promenade with turn
#4 Swing step (also known as the sway step)
#5 Swing step with a turn
#6 Left Hand Turn
#7 Right Hand Turn
#8 Zig-Zag
#9 8 count box step
#10 8 count box step with turn
I Hope to make some video's soon to show you what these steps look like, and explain how to do them. Good luck on your quest to learn how to dance
Call Kevin Hunter 208-870-6737 EMail: captindanceman@yahoo.com